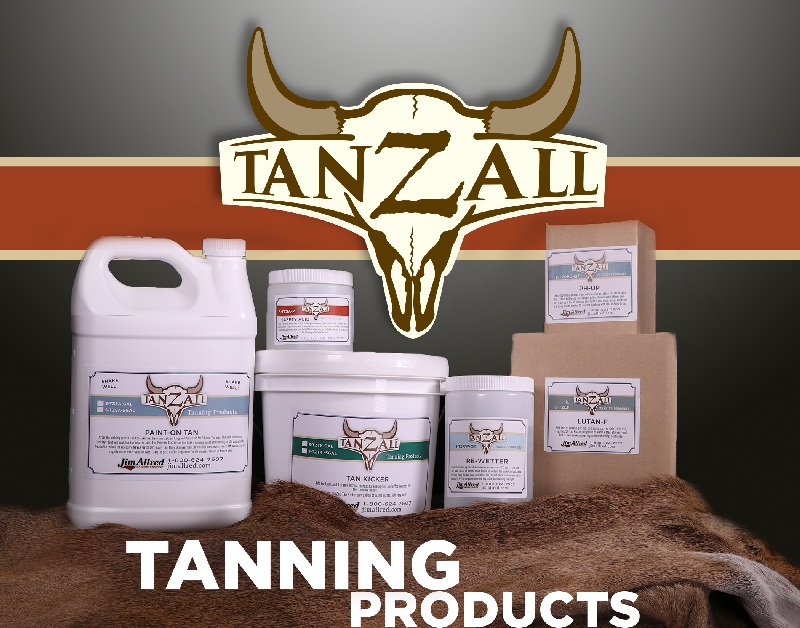 Capes tanned and deer mounted by taxidermist Chuck Mulkey.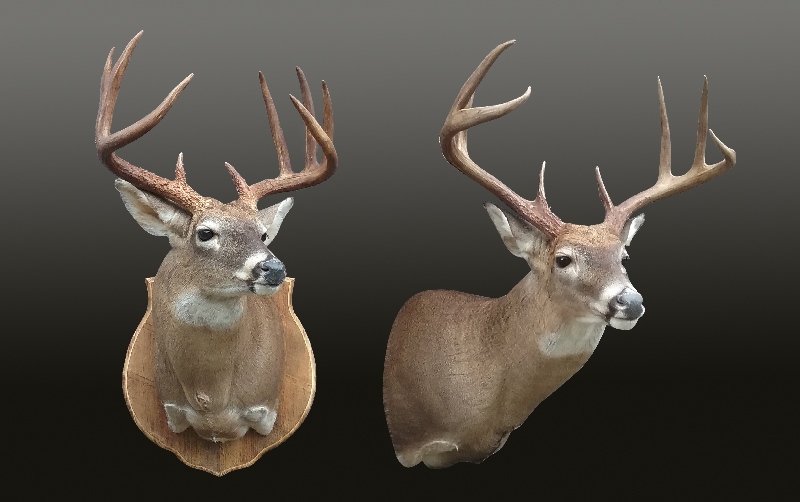 Great Stretch, mounted up great with no problems.  Quick and simple to use"       

Chuck Mulkey,  Anderson SC
Getting fantastic stretch with your capes, less time consuming and Saving money at the same time.  More PROFIT in your pocket!
DEVELOPER:
Aubrey Young
My tanning career started in late 1985 after the realization that college was not for me. Being from the Texas gulf coast, my course of study was directed towards a career in marine biology. Eighteen months later, I decided to join the workforce and attempt to gain employment with one of the local oil refineries or other chemical plants in the area. A few years prior, my Uncle, Luther Young, opened a tannery that he named Con-tan, in a small Texas town named Conroe. My Uncle, having heard from my Father that I was seeking a career, called me and offered me a job as a "shaver trainee". After hearing the income potential, I quickly accepted.
I started off at a salary of $125 a week, and being a lowly apprentice, often worked fifty plus hours per week. I lived in a small travel trailer next to my Uncles home, being my parents lived seventy five miles from the tannery. Needless to say, those were tough times, but I kept my eyes on the prize. The journeyman shavers were making close to 35k per year, and to a 19 year old, that was very big money. Making a long story short, some time into my apprenticeship, my Uncle ran into some bad financial dealings with his investors. My Uncle no longer wanted me to work for "the enemy" so he made a call to Carolina Fur Dressing in North Carolina, and got myself and another shaver jobs there. This was May of 1986.
I shaved for CFD until around the year 2000. During that 14 years, I supervised the shaving department as well as training shavers for compensation. Being from Texas, for personal reasons, I moved back home and took a job at South Texas Furdressers. Here is where I was able to take more of an interest in the chemical processes of the tannery. I had access to the whole operation that I hadn't had prior.  I became a human sponge, searching for anything I could find to learn more. Much of this on my own time. I continued to work for STF for three years, until returning back to CFD in 2003.
Back at CFD, I was now offered the position of Supervisor of the entire wet end of what was then the largest Taxidermy tannery in the nation. This included but was not limited to supervisor of the shaving department, and supervisor of the entire wet end of tannery operations. Being responsible for the shaving and tanning of literally thousands of skins per week, of dozens of different types. Deer, bears, small game, African, etc. Knowing all their different special requirements.
In 2007 or 2008, I began having health issues that I knew were going to eventually prevent me from working in the physically strenuous environment a tannery requires. Seeing the possibility of future employment issues, I started developing tanning products for the Taxidermist who preferred to tan their own skins. I did this on my on time. Shortly before leaving the tanning business for health reasons, in 2010, I began to market tanning products as an income supplement. I have also worked with a couple other tanning operations as a consultant, etc.
I developed the first fully synthetic paint-on tan offered to the Taxidermy industry, and it is still selling today, in 49 states, and several different countries! Having had nothing but great feedback from those products, I hope that positive feedback continues with these quality products and tans! I have collaborated with Jim Allred to develop their own unique line that I sincerely believe will serve their customers well. This will be the last of my endeavors.
Thanks, Aubrey Young
TanZall Tanning Products
TESTIMONIAL…….
D. Price, Outback Taxidermy, North Carolina
"With my 18 plus years of experience in the commercial tanning industry I am partial to the 3 step tanning process of pickling, tanning and then oiling all in separate steps. Over the years I have been asked to try new tans as they are developed and to offer my input. So when Jim Allred called and asked me if I would try out and offer feedback on his new brush on tan, TanZall, I said sure but you know I am a submersible tan man, he just laughed and said he would send it out today.
I have tanned and mounted several whitetails since receiving the tan, and I must say I was pleasantly surprised with the outcome. It has a nice non offensive smell, tight hair, it leaves you with a grainy white soft leather, no epidermal loss around the eyes and has awesome stretch with very little shrinkage like you get with a lot of tans. If paint on tans are your process you will have to look high and low to find one to top TanZall. Kudos to Jim and a great product."
D. Price, Outback Taxidermy
---
Chuck Mulkey,  Anderson, SC

"I've been in the taxidermy industry for 29 years . Probably 28 of them years I've been using dry preservative . Starting
experimenting with acid tan and paint on tans . Couldn't seem to get the stretch out of them  so I went back to dry preservative . Got turned on to TanZall from Jim Allreds, and it turned out to work great . Very simple and quick to use and I am getting a lot more stretch . I usually can get a 21 inch out of a 19 inch neck . Also started using the TanZall dry tanned ,not having to send my flat hides off to tanneries,  and hoping I get them back .  So far TanZall is the best I have used . Thanks for a great product!"
---
Joe Galbraith, Croswell MI
The new TanZall has great stretch, pleasant smell and minimum shrinkage for all my gameheads. 
---
 

Brandon Brown, Wildlife Creations




Etowah, NC



 I have always  been open to trying all methods, tanning products, as well as many different commercial tanneries. Using Tanzall products and my new hide stretcher from Jim Allreds, I easily achieve a larger neck measurement than my actual measurements are, which makes pulling the cape on a breeze. Tanzall products are user-friendly ,without the strong nasty odor. I personally achieve a better product and better end results. I would recommend anyone try Tanzall products for themselves to see first hand how great it is.
---

Marty Core, Leicester, NC
"After trying various tanning products, I was so glad to be introduced to Jim Allred's TanZall Paint-on Tan.  I used their TanZall Safety acid for the pickle and the Paint-on Tan, I received extremely good results.  I had very good stretch and a very pleasant odor.  I highly recommend this cape tanning product."

---
Larry Stanfield, Longview, TX
Doggone easy to use, super stretch and it goes a long way. 


see Kits below……..
Thanks to all our customers to participated in our Introductory offer.  Please send us your comments by going HERE

Click here to go to a listing of all TanZall products!!
 

Paint-On Tan

This is a great product for those who want to WET TAN their own capes,  the procedure is quick, simple and provides an excellent tanned cape for mounting.    Salt, pickle, shave, neutralize and apply Paint-on Tan.  Mount or freeze cape.   You can purchase the Paint-on Tan in quarts, gallons and 5 gallons sizes or you can order the Kit ( see below) which provides all the tanning ingredients to tan 2-3 WT deer capes.  Instructions included.

Dry Tan Oil

Tan those flat backskins for your customers.  Use this oil when tanning with  Lutan-F  or Alum to produce a soft attractive skin for customers to lay across their furniture.  The oil can be purchased separately in Quarts, Gallons and 5 Gallon quantities or in a Kit.

Instructions included.

 

Safety Acid

A super strong and economical acid for making a pickle bath,  1/2 oz per gallon of water will result in a PH 2.   Available in Quarts, Gallons and 5 Gallon quantities.  We highly recommend salting and draining any skin before placing into the pickle.  Instructions included.

Re-Wetter

We recommend you salt your skins and drain overnight.  This removes the fluids from the skin and makes the much more receptive to the pickle bath.  This Re-Wetter also increase the flow of the pickle into the skin,  especially helpful when re-hydrating hard dry skins.  Instructions included.

Tan Kicker

Add this to your Alum or Lutan F tanning bath for a faster, more effective tan.  This affordable product enhances the ability of the tanning agent in penetrating deeper into the skin.  This results in a better, softer tan.  Instructions included.

Odor Remover

Fur bearing animals and skunks all have strong offensive odors that need to be removed.  The Oder Remover is an industrial products and work great to remove those odors.  Odor Remover can be used during the tanning process or after the animal has been mounted.  Instructions included.

 

Grease Out

Grease Out is a strong, industrial grease remover and is very effective at removing the grease from Birds,  Pigs, Bobcats, Coyotes and Bears.  All fur bearing animals must be degreased to achieve a fluffy hair pattern.  I also recommend long haired Northern Deer and Elk be degreased,  it makes the hair more manageable.  Instructions included.
---
TANNING KITS

 
PAINT-ON  Cape Tanning Kit


Designed to Wet Tan Capes for Mounting. 

This kit has everything you need to try our new Paint-On Tan.  Kit contains 4oz Safety Acid,  1lb PH-UP,  12″ PH-Paper and 16oz of TanZall Paint-on Tan.  Complete instructions are included.


 
Flat Skin Tanning Kit

Designed to tan those flat back skins for your customers.  Kit include 4oz Safety Acid, 1lb Lutan F, 1lb PH-UP, 12″ PH-Paper, and 16oz of TanZall Tanning Oil.   Complete instructions are included.